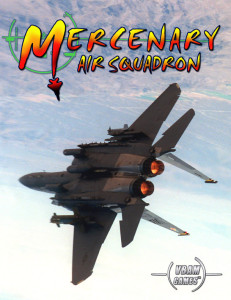 The Battle for the Skies has Begun!
As the year 2015 came to a close it was clear the world was in a new trend. Instead of fighting wars with their own conventional forces, nations found it easier to pass the burden of conflict along to private contractors. They could be expensive, but a mercenary force was less politically liable than a country and more expendable. The best survived, and went on to glory and profit. The most famous and sought after are the mercenary pilots.
The leader of a Mercenary Air Squadron has many responsibilities. The fortunes of his or her firm depend on taking the right jobs for his pilots, outfitting with the right equipment, and keeping those birds flying. One month a mercenary squadron could be flying combat operations over the Pacific Ocean for Japan, and turn around and join the highest bidder against their former employer. Nothing is personal, except for rivalries amongst mercenary squadrons, which tend to lead to heated exchanges beyond that specified in a contract. Your prestige and fortune are at stake. Pilots, man your planes and your pocketbooks!
---
Mercenary Air Squadron – World War II
Mercenary Air Squadron: World War II takes the action of Mercenary Air Squadron and take it back to days of the Last Crusade – World War Two. Many pilots were recruited as mercenaries by the various air forces involved in the Spanish Civil War. This expansion takes that notion and runs with it to give you a slightly different take on the air war. You're able to take your squadron from the beginning of the war through the end of 1943. From 1944 on, the Allies have the equipment, the manpower, and the doctrines to wage total war in the skies and individual squadrons lose their independence in such an environment.
---
Game Resources
Game Errata
Errata & Clarifications Zip File – January, 2008
MAS Explanation – November, 2007
Victory Track
Victory Track #1 – November 12, 2007
In the first release of Victory Track Charlie Lewis and Jay Waschak take you through a mission in the game Mercenary Air Squadron through the eyes of the Peace Through Superior Firepower Squadron.
Victory Track #2 – January 8, 2008
The next issue of The Victory Track is now available as for download. This e-zine explores the products of VBAM Games, Inc. and in this edition we create a new squadron for the Mercenary Air Squadron system.
Victory Track #3 – March 6, 2008
The latest edition of Victory Track is now available. Issue #3 highlights the upcoming expansion to the Mercenary Air Squadron system MAS-WWII:MTO with a campaign diary following the exploits of an Italian MAS through two campaigns.
Victory Track #4 – March 12, 2008
The latest VBAM Victory Track, a free e-zine designed to support existing VBAM Products, has been posted. In this edition Dan Waugh showcases his variant rules for elite fleet officers.